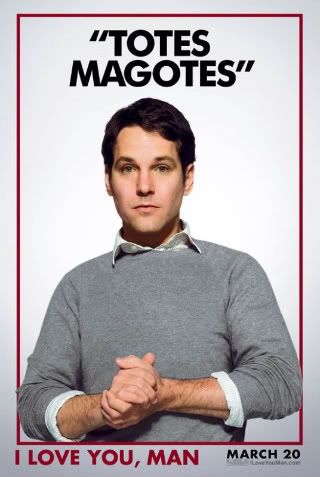 I won't bore you with a long winded post, but this is for those who have yet to see this movie. It's a near perfect comedy. It's funny, smart, brash, cute, and wildly entertaining. What's more intriguing about this film is it's not a romantic comedy, it's a bromantic comedy. It's a true bromance. It's about two guys falling in love (pause) in the platonic way. It shows how awkward and unsettling it is to try and find a best friend.
Well this movie shows that. You try hanging with people you have nothing in common with, people who annoy you, and people that are flat out horrible. It's like dating but without the sex.
So the question is, when you find that perfect friend, how do you take it to the next level without forcing it or ruining it? That's the case of this movie. Rudd meets Segel and falls in "love" immediately. He tries his best to keep it cool, but Segel plays his character so cool, it's hard to resist him. So throughout the movie, despite finding his true one, he goes out more and plays the field, meeting friends of family and so forth. None compare though.
The main reason i enjoy this movie is the laugh out loud humor. It's not shocking, it's not gross out, it's just funny humor. There's no gimmicks needed like some other famous movies out there, this movie just flat out hilarious and you should do yourself a favor and check it out. You won't be disappointed.
Check that epic crew.
11/10